The IPPUDO Story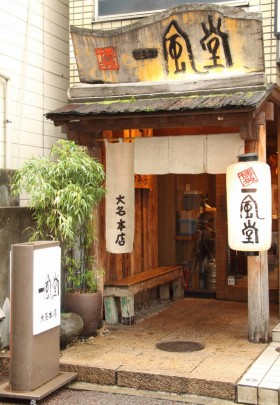 IPPUDO was founded in 1985 in Japan's ramen capital of Hakata by Shigemi Kawahara, the internationally renowned Ramen King. With over 80 stores in Japan, IPPUDO is now spreading throughout the world its authentic ramen. After the successful opening of its first international outlet in New York in 2008, IPPUDO is now present in Australia, Korea, Singapore, Malaysia, China, Taiwan and the United Kingdom, with plans of further expansion.
Everywhere, the mission remains the same: to spread "Smile" and "Arigatou" through bowls of ramen.

"To continuously innovate to remain true"
Ramen has become soul food in Japan with a wide variety and easy availability. IPPUDO brings the true and authentic ramen with much effort being invested on producing the highest quality soup, noodles and other ingredients in every place it operates. With ramen of the highest quality, hospitable service with attention to detail and unique ambience, IPPUDO aims to create an exquisite and delightful ramen dining experience for its customers throughout the world.
Here in London, with its own central kitchen dedicated to soup and noodle production, IPPUDO aims to dazzle picky Londoners with its quality products, dynamic ambience and hospitable service. Fusing high quality local products to Japanese elements, IPPUDO is proud to finally introduce its authentic and critically acclaimed tonkotsu ramen to Londoners!
Founder's Profile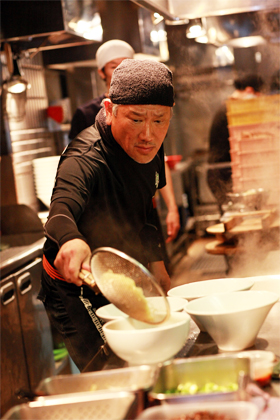 Our ramen is often referred as a "cosmos served in a bowl". The delicate balance of ingredients, broth and freshly made noodles is an art form in itself. The ramen chef, on the other hand, is like a consummate story-teller in the kitchen.
Shigemi Kawahara, often dubbed the Ramen King, is the founder of IPPUDO and a charismatic entertainer in the kitchen. He sees the restaurant as a stage where each employee plays a role like an actor. From cooking to serving, every move is choreographed to perfect timing, even down to the moment when the staff bids a customer goodbye.
When Shigemi Kawahara started IPPUDO in 1985, he also created his very own "Tao," or way, of ramen. His philosophy – to continuously innovate to remain true – is to keep reinventing in the kitchen; redefining recipes for a dish that emerged over 300 years ago. Kawahara's reinvention of the Hakata-style tonkotsu (pork-based) ramen with its signature delicate, creamy broth, earned IPPUDO its global acclaim.