SHIROMARU CLASSIC

A bowl full of basics

IPPUDO's original creamy tonkotsu pork broth served with homemade thin and straight noodles, topped with pork belly chashu, sesame kikurage mushrooms, bean sprouts, bamboo shoots and spring onions. A classic, Hakata-style ramen.
AKAMARU MODERN

A bowl full of innovation

A bolder translation of the original pork broth, enhanced with IPPUDO's secret special-blended miso paste (umami-dama) and fragrant garlic oil. Served with homemade thin noodles, pork belly chashu, bean sprouts, sesame kikurage mushrooms and spring onions. A refined, modern-style ramen.
KARAKA-MEN

A bowl full of stimulus

Our original tonkotsu broth and homemade noodles topped with "Karaka" spicy miso paste, pork belly chashu, bean sprouts, sesame kikurage mushrooms, spring onions, roasted cashew nuts, sansho pepper and fragrant garlic oil.
VEGGIE RAMEN

(IPPUDO Central Saint Giles only)

For Vegetarian

Vegetable broth with our homemade paprika noodles in a seaweed and mushroom dashi,topped with eringi, sautéed mushrooms, beets, rocket and grilled vegetables with fragrant original eschallot oil.
VEGGIE RAMEN

(IPPUDO Canary Wharf only)

A bowl full of innovation

Original homemade thin noodles in a seaweed and mushroom dashi broth, enhanced with IPPUDO's special-blended miso paste and fragrant garlic oil. Served with bean sprouts, sesame kikurage mushrooms, spring onions and fried tofu.
A LA CARTE



GOBO-TEN SALAD

Colourful mix of vegetables topped with Crispy deep fried gobo to get the crunchy Texture-a must try Hakata's local specialty!




IPPUDO CAESAR SALAD

Crispy Romaine lettuce with original Caesar dressing, topped with fried onions and home made salted pork.



SPICY FIRE CHICKEN WINGS

Temptingly spicy chicken wings marinated Overnight in our original seasoning blend, Served to you deep-fried and dipped in a mouth-watering spicy sauce.




MAGURO TATAKI

Seared tuna marinated with original sauce, Served with wasabi ponzu (a Japanese tart citrus sauce).



WAGYU STEAK

Generous portion of rump steak (140g). Simply enjoy the pure taste of meat Accompanied with a Japanese sauce.




MAGURO AVOCAD RICE

Wonderful pairing of tuna and avocado, Served with original curry flavoured mayonnaise.
*For the full-lineup of items and seasonal menu, please visit the store-specific pages
IPPUDO's commitment
A taste of tradition and innovation – in all IPPUDO's ramen.
IPPUDO ramen keeps to the basics of Hakata ramen, but constantly strives to innovate.
Now try our ever-evolving "most recent taste".
※Manufacturing methods and ingredients vary by country and region.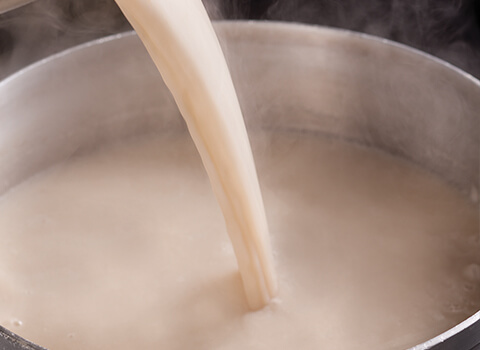 ABOUT SOUP
Hakata Kinugoshi Tonkotsu
(Hakata Silky Pork Broth)
Smooth yet with a rich and full-bodied taste. While following the traditional cooking methods of Hakata tonkotsu ramen, IPPUDO has created a "double maturation process", which adds several layers of depth to its taste. Cooked for a good 18 hours in a specially-crafted soup pot, then rounded off using a lower heat maturation method for another full day. Smooth and mellow as silk, this specialty pork-based stock forms the base for IPPUDO's ramen.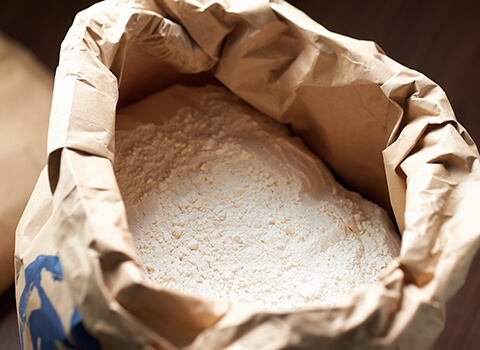 ABOUT WHEAT
"Kaze no daichi"
(windy plains)
a wheat variety specially grown
for IPPUDO
An original blend of wheat varieties mainly using hard flour which produces a delightfully springy and chewy texture. Combined with low gluten wheat for its strong umami (savory taste), and then interfused with "Ra Mugi" (so named as an abbreviation of ramen + mugi meaning wheat), a wheat variety from Fukuoka prefecture specially grown for use in ramen. This results in a pleasant, springy chewiness yet with a firm easy-bite texture and a mild sensation when swallowed. Then the last impression which comes into play is the original flavorful aroma of the wheat. Ultrafine noodles made from IPPUDO's original wheat.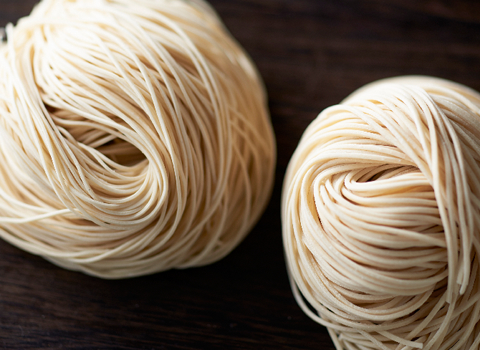 * Noodle fineness
This refers to the number of noodles cut within a width of 30 mm when the band of noodles is finally cut using a roll cutter. And so the bigger the number, the finer the noodles and the smaller the number, the thicker the noodles.
ABOUT NOODLES
IPPUDO
round blade noodles
fineness no. 26
A bowl full of basics – the question is what noodles would best suit the Shiromaru Classic? Noodle specialists worked night and day trying out all kinds of possibilities until they reached the answer which was "Round blade noodles fineness no. 26". Skilled professionals controlled the hydrolysis rate and process by adjusting the temperature and humidity, and achieved the most perfect balance. Using "round blades" which produce circular noodles, these noodles which draw up just the right amount of silky pork broth, and provide a gentle, almost nostalgic comfort can be said to be the basic origin of IPUUDO tonkotsu ramen.
IPPUDO
edged blade noodles
fineness no 22
A bowl full of innovation – "Edged blade noodles fineness no. 22" born out of a quest for greater elasticity and solidity to match the Akamaru Modern. This taste and texture created so as not to lose out to the impact of the spicy miso, infused oil and back fat was achieved through delicately adjusting the kansui (alkaline solution) and wheat, and pursuing the ultimate balance of rolling ratio. Using "edged blades" where the edges of the cutting edges are square in shape, these strong noodles created through a low hydrolysis rate entangle with the deep flavor of the Akamaru Modern and double the soup's umami (savory taste).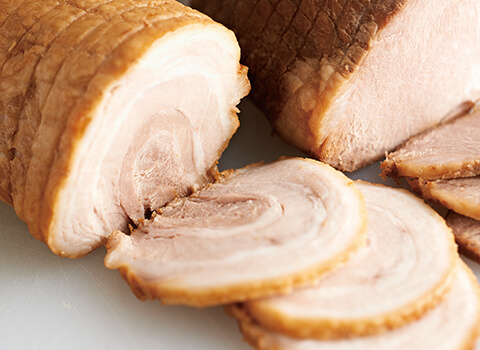 ABOUT CHASHU
IPPUDO's double CHASHU
The ōdō no bara
(royal road pork belly)
and ōdō no kata
(royal road pork shoulder)
By gently, gradually and slowly simmering the chashu, the time-honored soya sauce-based braising liquid is absorbed to the very center of the chashu. This is the "repeated simmering process" uniquely created by IPPUDO. The umami of the original pork flavor is further condensed by allowing the flavor to settle through low temperature vacuum aging. The ōdō no kata (royal road pork shoulder) has a pleasant, chewy texture where the more you chew, the more the juices and flavors pour out while the ōdō no bara (royal road pork belly) provides a mouthwatering succulence where the pork just melts in your mouth. You can enjoy these two pork cuts in one bowl.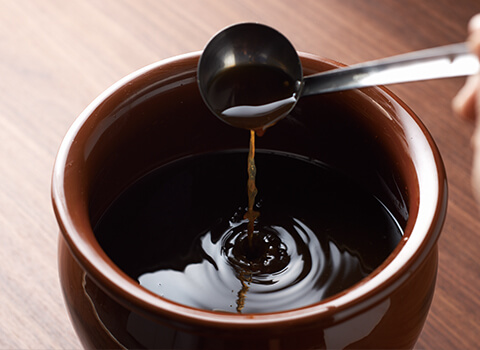 ABOUT KAESHI
The "kaeshi"
The "IPPUDO kaeshi masterpiece" uses a unique blend of a variety of soya sauces originating from Kyushu. This kaeshi was born through intense research into the techniques of Japanese buckwheat noodle-making. After trying out new recipes one after the other during the 30 years since IPPUDO was first established, it evolved into the ultimate kaeshi perfect for IPPUDO's ramen. This secret onko chishin (manner of discovering new truths through scrutiny of the old) recipe is known only to Shigemi Kawahara and a handful of other trusted "kaeshi guardians". It is passed down only to those people who obtain the title of "master".